Business trips - Excursions - Anniversaries - Meetings - Parties - Teambuilding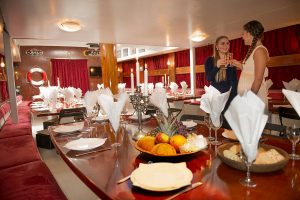 Maja is perfect for this purpose with plenty of space on the deck and the possibility of complete peace without engine noise – afterwards you can get coffee or other food in the salon.
For some, it is the natural end of a life with and at sea. – perhaps the end of a life as a sailor or fisherman – or of a life where the sea and the fjord were so close and meant a lot to life and everyday life.
For others, it is more of a philosophical attitude that in this way one is not bound to one place on earth, but can continue the journey of life in a new form.
How can this be done?
People meet on board the ship which has the Dannebrog set on half.
Before departure, an instruction is given on safety on board, where it ends with a little history about the ship and where the trip goes.
We sail to the place we have agreed the ashes must be spread (typically sailing for the engine) – when we are on the spot the engine is stopped and the ship is stationary or drifting – the ashes are spread or the urn is put in the water – maybe a little must be said – many sing a song – after this the flag is set whole and many times we can set a sail and sail silently and slowly from there at the same time as e.g. can enjoy coffee with cake or maybe a lunch in the salon.
See also our prices and menus
See which cities we sail from here